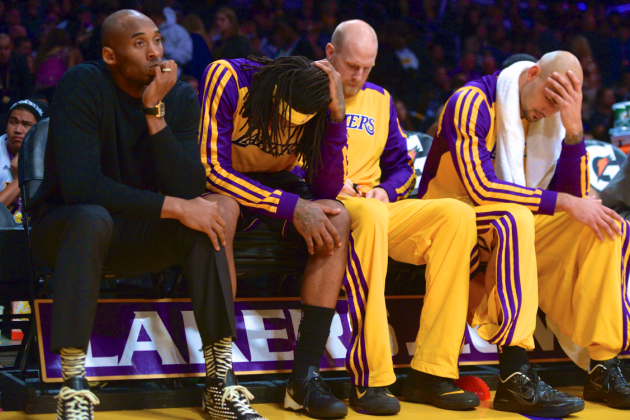 Losing reveals a lot of things. It tests your character and it exposes a lot things. In the case of the Lakers, it exposed a lot folks stooping to desperate levels.
For the first time, I heard Lakers fans and fan sites talk about tanking -
that silly concept I debunked earlier this year.
I settled for accepting a team that was competitive and moral victories meant giving up less than 100 points. I dealt with Nick Young being the West Coast JR Smith except not as destructive. And then there's the Kobe conundrum.
If this season exposed anything, it's the great divide between Lakers fans and Kobe fans. One group of folks know the Lakers way and respect the franchise as much or more than one player. The other group believes in Kobe Bean Bryant and can sometimes forget the realities of the game.
Yes, Kobe's opinion and actions matter considering he's given half his life to the team. But at the same time, resting the hopes of next year solely on him is a fool's errand. Yet there are fans who do this and I can't figure out why they can't balance their love for Kobe with the same reality check other superstars have.
Kobe fans believe he's going to come back 100% healthy and buy into his self-promotion because he's done amazing things before. Lakers fans take a step back and realize that Father Time is 100% undefeated and we're seeing the decline of a player we've seen grow up in front of us.
Kobe fans want to slander LeBron James as a fake pretender. Lakers fans remember Chick Hearn taught us to respect the game and appreciate those around us. Lakers fans also remember the Michael Jordan fans who thumbed their nose at Kobe being anywhere near him and vowed not to be like that.
Kobe fans believe that whatever Kobe wants, he should get because he's earned it. Lakers fans agree but also realize that you need to balance that out with what's best for the team given his age.
Kobe Bryant is entering his 19th season. He's 13th all-time in minutes played and assuming he plays at least 70 games, he'll be in the top 10 by 2015. I don't care how good he is, he is not the Kobe of 1998, 2001, 2006 or even 2009 and 2010.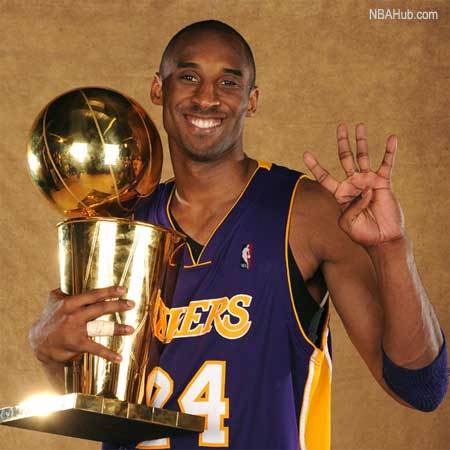 To quote Haim (or Fishbone if you prefer), these Days are Gone
I say this as somebody who's watched Kobe since Day One. Who remembers the game Kobe broke out against the Sacramento Kings and threw down a 360 on a fastbreak as a rookie. Who remembers All-Star Weekend 97 like yesterday and the coming out party in the 98 All-Star Game. Who has Kobe in my personal Top 10 all-time players list and had a love/hate/love relationship with him.
I'm also somebody who wrote
back in 2011 that this day was coming
(Scroll to the bottom). The decline was going to hurt this team and the Lakers because they didn't have a plan. I was wrong about Kobe's decline in some aspects but I didn't foresee that he'd leave the court twice with serious league injuries. So now here we are.
Kobe Fans need to accept this. Most of us do and we appreciate whatever we can get from Kobe at this stage of his career the same way Brooklyn does with Kevin Garnett. Yes he can do a lot of things few can but he's also mortal. You can't run him out like a thoroughbred next year after two major leg injuries. You have to treat him like the Spurs treat Tim Duncan - restrict his minutes and use him sparingly.
Lakers fans understand this. We were born into either good times or bad times. We saw James Worthy decline as well as Kareem. We remember the 1990's Lake Show era when there was good young talent in Nick Van Exel, Eddie Jones and Elden Campbell. We know that at some point, you have to rebuild and find somebody new to help carry the mantle.
Like another Lakers legend in Kareem Abdul-Jabbar, Kobe is approaching a transition in his career in Year 19.
I just hope Kobe fans realize this. We both appreciate what Bryant has done in his career and done for the Purple and Gold. The only difference is we're real about what the ending will be. The Lakers have to prepare for that and hopefully this summer they will instead of come up with more PR for Kobe's return.