My good friend Keith and I talk a lot about hoops and one of the things we talk about is the science of hoops. We recommend pieces that discuss the science of the game without boring us with gossip or unnecessary hit jobs. We talk about the X's and O's and when I get away from the Twitter stream of consciousness, I see the game as more than just narratives and enjoy it.
Another friend, Paris, wrote
an excellent piece
about how he's stopped being a fan and becoming an watcher/observer of the game in reaction to over the top fan behavior. It's a freeing thing to enjoy the games, be passionate/excited and then break it down without losing much sweat or hyperbole. Of course some games will still hit you in the gut but life goes on.
I say all of that as an intro to this Heat-Spurs rematch that I'm excited to see. Two similar teams playing beautiful basketball. Two coaches who are masters of their profession in terms of strategy, preparation and adjustments. I'm ready to sit back and watch our first Finals back-to-back rematch in 15 years. Here's what I want to see.
I want to see how the Spurs respond to dealing with a year of remembering they were 30 seconds from a 5th NBA title.
I want to see the pride of Compton/Riverside Kawhi Leonard and his newly minted All-Defensive Team status match wits with LeBron James.
I want to see if a healthy Manu Ginobli/Dwyane Wade can be difference makers. I want to see Manu spark the best bench in the league and Wade show us he still has tricks up his sleeve.
I want to text back and forth with my Spurs fan aunt, Keith and other basketball minded friends and marvel at what we just saw.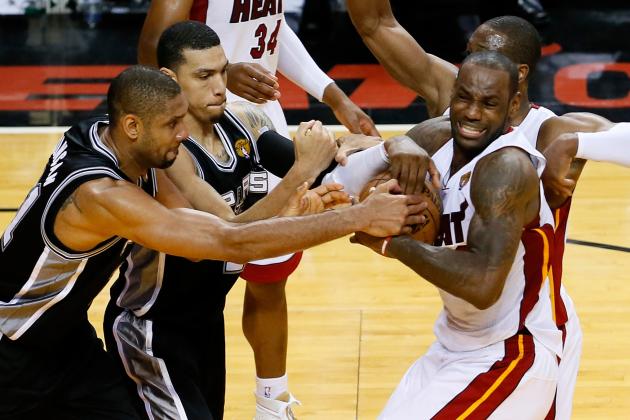 I want to see the great Tim Duncan continue to fight Father Time and be effective on both sides.
I want to see if The Green Ranger can light it up again consistently or if he will just be Danny Green, spot-up shooter against a swarming Heat defense.
I want to see Gregg Popovich and Erik Spolestra play chess with some of the best pieces in the league. Two mad scientists who love to make people shut up and just watch the game.
I want to see games like Game 1, Game 6 and Game 7 from last year.
I want to see Chris "Big Shot" Bosh make plays that will remind people why he's been such a key part of the Heat's success. A key rebound, a defensive stand, jump shots to stretch the defense and clutch plays to make us appreciate his contributions.
I want to see Shane Battier, my favorite player once upon a time, make big 3's and give us something to remember why he's been a rare breed of a steady Duke NBA player before he retires.
I want to see LeBron James be LeBron James. No expectations, just doing what he does better than anybody else.
Finally I want to see Miami get that third ring. Heat in 6 is my prediction but will I complain if it goes 7? No. Will I complain if the Spurs win it all? No.
Let's just watch the games and react accordingly . Let's appreciate what we have before us and get ready for another great series. This is for the scientists who love hoops, the junkies who want that fix and the observers who want to see the best face off. It's high-level hoops that's accessible and easy to enjoy because hey, we got 7 games of it last year and nobody complained, right?