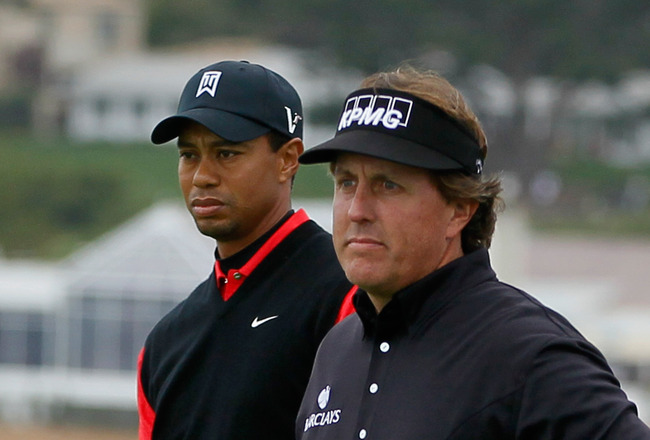 Phil Mickelson may have won a major but if you think Tiger Woods hasn't had a great 2013, you're crazy.
Tiger Woods shot a 1-under at the first round of the PGA championship today. He ended poorly with a double bogey on 18 and as usual, the question becomes if this is where he can finally end his 5-year drought of winning majors.
Maybe it's me but I'm still buzzing off that 61 he shot last Friday in the 2nd round of the WGC-Bridgestone, which he eventually won. I'm still in awe that even at a familiar course, he put in one of the best rounds of his career and sustained it the rest of the weekend.
Like I said
earlier this year,
it's hard for me to strictly judge Tiger on winning majors now. He's the No. 1 player in the world. He's won 5 tournaments this year and has 7 total Top-10 finishes. Yes, he set the bar high when he dominated the PGA Tour but why not lower it when you realized he's had to climb back up and regain that focus/adjust his skills as he's aged.
At 37, Tiger is still playing high level golf. He's going to break Sam Snead's record of 82 career wins by next year (Woods is at 79) and regardless if he wins another major, that record is pretty impressive too. Hopefully he can win the PGA Championship this weekend but if he finishes in the top-10, I'll accept it.
I don't deceive myself thinking he's going to run away from them all the time but instead I appreciate what he's doing and appreciate that just like last weekend, he can still make magic happen. Yet there are things I notice that stand out a lot more in this new Tiger era.
After winning at Bridgestone, he celebrated with his son. For me, that's something that shows Tiger is more appreciative of the journey instead of just being robotic/methodical in his greatness. I'd rather see a happier Woods contend and hopefully finish with a win than feel like he failed because he didn't win.
We can't go back to 2002 or 2007. This is who Tiger Woods is now and we're better off appreciating what he's doing instead of lamenting that he still hasn't won a major. I'm watching the PGA not expecting him to win but hoping that he plays well enough to get in position to win.