To say USC's 2012 season was a failure is being nice. Preseason No. 1 to unranked at season's end due to a freefall I've never seen at the House of Troy. The fall was best symbolized by Matt Barkley ending his career with a shoulder injury at the hands of UCLA's Anthony Barr.

Lane Kiffin deserved the lion's share of the criticism for his arrogance and questionable playcalling. I called his coaching into question several times. and there's no doubt that he's on the hot seat this year.

With Barkley and Robert Woods in the NFL, the big question entering 2013 is who is USC now? The 2nd best team in Los Angeles? 3rd best in the Pac-12 South? Will they still rely on their passing game or finally trust their backfield?

They still have the country's best wide receiver in Marqise Lee and a surefire NFL prospect in Morgan Breslin, who's switching to linebacker after playing defensive end in 2012. They still have Silas Redd, who Kiffin said would be a more prominent factor in the offense. But they have a few kinks to work out so let's break down what they're working with.
Wide Receiver: Lee will make USC's new quarterback immediately comfortable. He's explosive, sure-handed and as reliable a go-to-player in the country. The Trojans may have lost Robert Woods to the NFL Draft but stepping in his shoes is Nelson Agholor who impressed in moments last year as a true freshman.
The rest of the corps is inexperienced with guys (De'Von Flournoy, Victor Blackwell, Darreus Rogers) who haven't shown much since I saw them in high school. Losing George Farmer for the season with torn ACL/MCL weakened their depth so as top heavy as the Trojans, they're thin in depth.
Running Back: I expect Redd to break 1,000 yards like he did two years ago at Penn State because the Trojans should lean on him like UCLA did Johnathan Franklin. Tre Madden being healthy also boosts this group because he's 6-1, 220 lbs and runs a 4.5 40-yard dash.
Kiffin spoke highly on how Madden brings depth to the roster. Here's hoping that his words are backed up with action.
Hayes Pullard, formerly of Crenshaw High School, is one of several strong linebackers USC has.
Linebackers: Moving Breslin to linebacker made this corps a lot stronger. Breslin, Devon Kennard and Hayes Pullard III will be the anchors of this new 5-2 scheme that new defensive coordinator Clancy Pendergast has installed. It's going to look a little like this (h/t to my colleague Rahshaun Haylock)
X Pullard
Breslin X X X Kennard
Five on the line means the Trojans will be more aggressive so good luck to anybody trying to stop Breslin/Pullard/Kennard consistently.
Weaknesses
Quarterback: Take your pick here. Max Wittek, Cody Kessler or true freshman Max Browne? Wittek didn't impress much in spot duty last year nor in the Emerald Bowl but that shouldn't be held against him because he also knows how to replace Barkley, having done it in high school. Kessler has only thrown two passes in a game so he's an even bigger unknown.
There's a good chance a starter won't be named until close to kickoff so until then, take your pick. Browne was the No. 1-rated QB as a HS senior last year so he'll push Kessler/Wittek in fall practice. Secondary: There's great talent here led by Dion Bailey (above). But the problem is how well can they cover? We know they have hard hitters but they need to show me they've improved in pass coverage because that's what killed USC last year.
Nelson Agholor – At Media Day, Kiffin was high on the sophomore stepping into a bigger leadership role vacated by Woods. Agholor started three games last year and I love his ability to make big plays. Both Woods and Lee made a dramatic leap in their sophomore season and it appears that Agholor will follow suit at WR and a return specialist.
My outlook
Regardless of what athletic director Pat Haden says, this is a make-or-break season for Lane Kiffin. For the first time in a decade, there's uncertainty on how good this team is and Kiffin does not have the reputation of a coach that can build his guys up.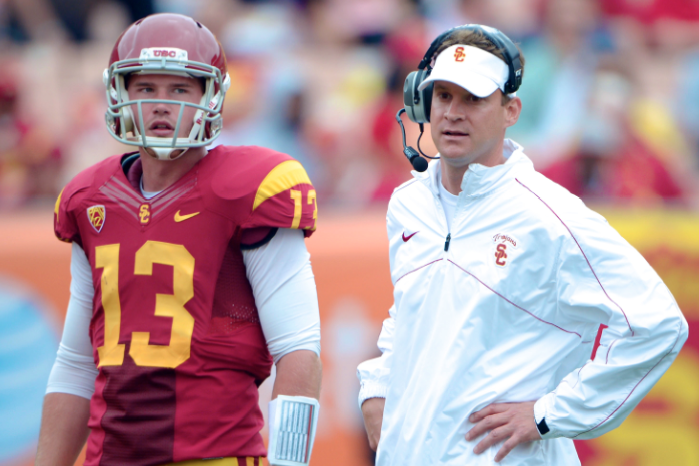 Max Wittek might be the favorite to start at quarterback but Lane Kiffin has far more pressure on him.
Whoever their new quarterback is has an easy task of passing to Lee, Agholor and tight ends Xavier Grimble and Randall Telfer. But the Trojans have to commit to the run or risk repeating last year.
Fortunately they have an easy start to their schedule. They should be 4-0 heading into Arizona State on Sept. 28 but tough tests await at Oregon State, Notre Dame, hosting Stanford and of course, UCLA.
USC should win eight to nine games but the question will be if Trojans fans can accept low expectations and if that's enough for Kiffin to keep his job. This is who they are now and unless they prove otherwise, they have to be the hunter instead of the hunted.