(
Sorry for the quiet here on the Report. As you may have seen from Twitter, the Daily Breeze is keeping me quite busy and I couldn't be happier. 5 stories in 5 days and more to come this week with high school playoffs. But I'm back and I'm making a bold statement to boot.)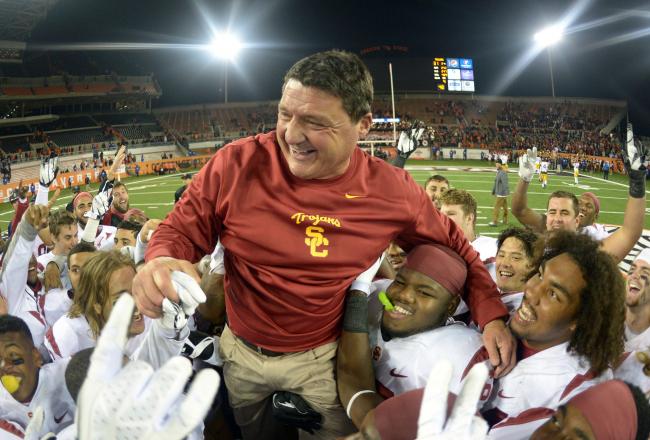 Ed Orgeron leaving Oregon State on the shoulders of his players.
As reports come out that USC spoke to Jack Del Rio about being their permanent coach, my mind keeps going back to the images I saw leaving the volleyball match I covered Saturday night.
A sea of fans flooding the Coliseum. Interim coach Ed Orgeron hugging players and USC personnel. Colleagues of mine struggling to get through the crowd and just snapping pictures of a scene I have never seen at Troy.
That USC win over Stanford was perhaps the biggest game I've seen the Coliseum host since the 2008 Ohio State-USC game. It's easily the biggest win in who knows how long and considering where the Trojans were six weeks ago, it could rank up there with the biggest in school history.
Leading it all has been Orgeron, who came back to save and restore the program he helped build with Pete Carroll, the man who almost never lost in November. At this point, Coach O is the new "Mr. November" who's riding the promise and leading this
Kill Bill revenge/redemption story I wrote about over at Bro Jackson.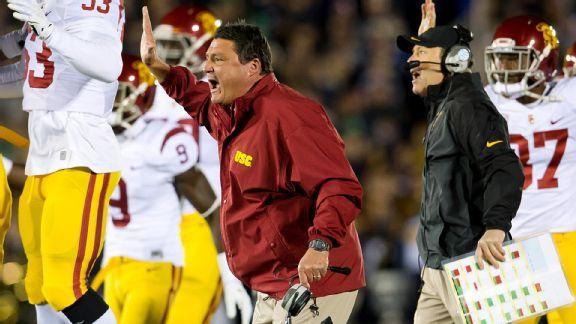 I know the Trojans brass has interviewed Jack Del Rio because he's USC family. But Coach O is creating a family right now. He has the players willing to play for him. See Marqise Lee playing on one leg to keep the Trojans final drive alive. See Orgeron trusting Andre Heidari to make the game-winning field goal despite his kicking woes. See Dion Bailey suiting up to play the 2nd half against Utah after missing the 1st in street clothes.
He's 5-1 since taking over. His defense is tough and nasty. He's showing a balance of creating a fun atmosphere and toughness on the field that resembled Carroll's best teams. He's convincing HS players to come to USC again, something I witnessed firsthand when he offered Serra High School defensive end Olajuwon Tucker after he dominated in one half of action.
His teams beat Oregon State in Corvallis and Stanford at the Coliseum - something they haven't done since I graduated college in 2006. If they find a way to beat UCLA in two weeks to win the Pac-12 South, you have to argue Coach O for not just USC's coaching job but Coach of the Year in the Pac-12. So yeah, USC AD Pat Haden and Co. have to do their due diligence to interview folks. But as they look around the Trojan family, they need to look closer at the guy surrounded by thousands of the Trojan family on the field Saturday night.