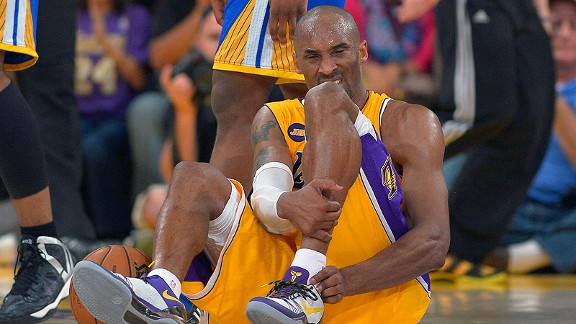 This is not a eulogy for Kobe Bryant or his career.
This is, however, a moment of truth where we finally realize that one of the greatest athletes of our generation is mortal. Mortal after rupturing his Achilles tendon in one of the worst Los Angeles sports moments in a decade.
I saw the injury and figured it was serious but nothing he couldn't come back from. I've seen Kobe play with injured fingers, bad knees and any assortment of small injuries you can think of. When he misses a game, it surprises you. I figured he'd be back on Sunday.
I was wrong. So wrong that when I left the movie theater 3 hours after seeing the Lakers win and heard the news, I called my girlfriend feeling numb. One of my church members did pass away Friday so to compare reacting to an injury to death seems foolishness. But the numbness I felt on that drive home was about as bad as a non-death or personal moment can be.
Seeing Kobe fall was like seeing Derek Jeter fall in the ALDS last year. A bad injury this late in an iconic career is still beatable but harder. It's Father Time's greatest ally - old injuries means longer recovery and a reminder that he's undefeated.
Seeing his tears had me pause. The last time I've seen Kobe cry was 2003. Tears of apology for embarrassing his wife and tears wondering about his future after being arrested and charged with rape. That press conference was hard to watch then and so is the post-game interview now. I still haven't seen it fully because tears from a warrior mean even more.
I was numb driving home. I was even more numb when I was working and saw that he would indeed be gone for 6-9 months. I read his Facebook post before work where he was trying to grasp what this means. I still hate even thinking about the fact that it's not just this year but next year that's threatened as well.
On the surface, it just means this cursed season takes the cruelest turn. T.S. Eliot was right was about April. It's the cruelest month for L.A. with Kobe down and Dodgers No. 2 man Zach Greinke out til June with a fractured collarbone. The Lakers showed incredible resolve Sunday by beating San Antonio and now all they have to do is win Wednesday against Houston (or see Utah lose on Monday to Minnesota) to make the playoffs.
Dwight Howard (along with Steve Blake) stepped up huge Sunday night to beat the Spurs.
On a deeper level, I do speculate if this is the end. Kobe's got one more year on his contract and he's been hinting that his career is winding down. Next year will be year 18 and it'd be a hard enough task without going through the recovery of a serious injury. I know Dominique Wilkins and Mark Price recovered from it, as did David Beckham, but they didn't have the mileage that Kobe has.
I don't want to believe this is the end. I've seen Kobe overcome many injuries and I doubt he's going to let this one take him out. He was still one of the best 10-15 players in the league in Year 17 and somehow he'll find a way to come back. I'm a realist but at the same time, I won't believe Kobe's done until he has a press conference in a suit saying farewell.
When that happens, then comes the eulogy and roses. For now, it's just me trying to come to grips that one of my city's greatest players has perhaps the biggest mountain to climb in 10 years and I'm realizing that it's not as simple as iron will.