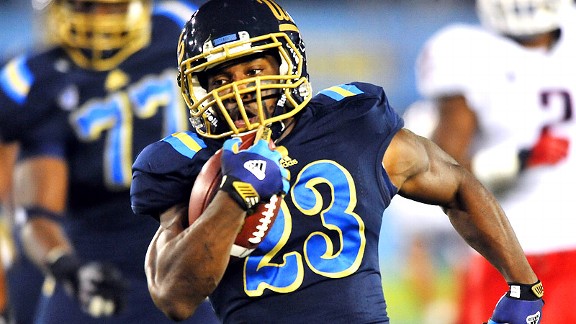 Most people know Johnathan Franklin as The Mayor, the nickname he earned at UCLA when he showed he had political aspirations and a desire to improve the city he loved. For me and others, I know Franklin as Jet Ski and a kid wise beyond his years.
Franklin's going to be drafted in the second or third round today as one of the first running backs off the board. His journey to the NFL was different than Robert Woods because while Woods was an HS All-American, Franklin had to work a bit harder to get there.
Back in 2007, I saw Dorsey play to get a glimpse of their safety Rahim Moore, one of the top recruits at his position. But Franklin got my attention as well as he ran for over 200 yards and helped Dorsey win. I hit him up right away and arranged for an interview over the weekend. It's still one of my favorites just because I was amazed at how mature he was.
(Photo by Evan Barnes)
He talked about inspiring kids to not seek the gangbanging lifestyle as well as thinking about how he would give back to his area. Growing up in the notorious Jungles (for my non-LA folks, that area in Training Day where Denzel Washington did most of his work), he was inspired to not just make it out but encourage others to do the same. Guided by his faith, he spoke like a 22-year-old at 17.
He and Moore helped lead Dorsey to the City semifinals where I saw them lose on a muddy, wet field to Carson. I stayed in touch with Franklin during the spring to see how he was handling his recruitment and he was the first prep athlete that I'd routinely call up for a quote.
Of course, there was a little TV show that he was on as well. I sorta cringed a bit because I felt he was bigger than some silly show but he represented himself and showed the magnetic personality that many in L.A. got to know this year.
He'd go on to UCLA but while Moore starred as a true freshmen, Franklin was stuck low on the depth chart. He was behind City Player of the Year Milton Knox and a few other tailbacks and I wondered if his time would come. Franklin was prone to fumbling the ball often so he'd be stuck with splitting carries.
But he waited for his time. Soon those ahead of him on the depth chart transferred or graduated. He got more and more carries. He didn't complain and whine but he grew as a leader by encouraging his teammates on.
He came into UCLA as an unknown but he left as the all-time leading rusher. He left after a magical senior year that helped bring UCLA back to prominence. He leaves as one of the top running backs in the draft after a great showing in the Senior Bowl.
Each game this year made me prouder of him. He gave God the credit and with each game, I felt that he was finally showing why he was a great player at Dorsey. But more importantly, he showed why he was a leader in every sense of the word. Brett Hundley was able to have a sensational freshman year because he had a steady presence behind him.
Now he's one step closer to his dream. Not just being a pro athlete, but somebody who can be a role model to others who came through the inner city like him. He's a reminder to make the most of your opportunity when it comes and stay ready because it may come later than you think.
His high school coach
hailed his leadership earlier this week
and I can't think of a better story to show that Franklin's final high school game. In that cold, rainy, muddy field, he called everyone together with tears in his eyes. He urged them that no matter what, they say their Dorsey postgame chant proud and with feeling. I had chills seeing that and see Franklin bury his face in his coach's shoulder let me know that he gave all he had and was proud to wear that uniform.
Dorsey has seen its share of NFL pros in Keyshawn Johnson, Dennis Honeycutt, Chris Mims, Stafon Johnson and Rahim Moore. Johnathan Franklin will add his name to that list and it couldn't come to a better guy. Someone who persevered, overcame his hurdles became an All-American on the field and a local legend off it.
As happy as I am for Robert Woods (and Datone Jones, who I saw shine at Compton High School in 07 before he went to UCLA and now Green Bay), I'm just as happy for Franklin, who had to take a longer route but grew from it into a better representation of what a Dorsey man is about.