So Dwight Howard is a Houston Rocket. Just as I expected in May. No real surprise so allow me to break down this whole thing a bit, starting with how this impacts D12. I'll quickly add that I hate calling this a Dwightmare so apologies for the title when really Dwight handled this quite well.
Howard goes to a team where he'll be loved and get what he wants. I don't have a problem with that. He earned the right to decide where he was going and what was a great fit. He earned the right to pick his future at his own pace and with careful thought. It's never easy to make a decision involving that much money and the prime of his career.
If the last three years have taught us anything, Howard's biggest issue is that he wants to be loved and being unaware of how it makes him look. He's a gifted player on the court but offensively, he's not as refined as he is defensively or as a rebounder.
Injured or not, he didn't adjust to a town where he wasn't coddled and had high expectations from Day One. It's not about rings, it's about embracing a mentality of toughness and going all out. I didn't see him as a true Laker because I didn't see that desire all the time.
I feel he wanted the love without the criticism. It's not easy playing with Kobe Bryant or surrounded by hungry veterans who don't have time to clown. Not to mention losing left a sour taste on things. That's why most of the vibe here is good riddance and good luck. Besides it wasn't as if Dwight gave folks a great glimpse of what he can do.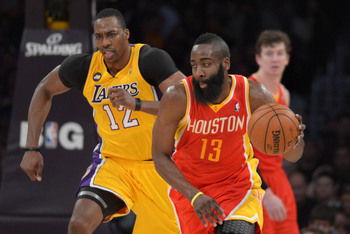 Oh, and now that he's stable for the first time since 2010, he needs to re-evaluate his agent and his inner circle. They deserve the lion's share of the blame for not controlling the story or leaking out bad information to make Dwight look bad. The job of an agent is to work for the client's best interest and clearly those people that work for Dwight don't?
On Friday, ESPN received a leak from a source who made Dwight look indecisive. Who was that source? Why is that source still close to Dwight. If he's mad at the media perception, he needs to control the messengers flowing from his crew. Don't blame Dwight for this because his folks don't know how to shut up and if anything, it's a wake-up call. for him to keep his partners in check.
That would be a sign of him growing up in Houston, something I hope he does. Because if he thinks H-Town will tolerate weakness, he doesn't know the people I know from Houston who tell me otherwise.. The South is traditionally a place where boys become men and as much as he'll thrive on the court, I hope he matures off the court for his sake.
Hat tip to Houston GM Daryl Morey making two great movies in two straight summers.
Speaking of the Rockets, they just became a Top-4 team in the West. James Harden gets a great running mate and Jeremy Lin as a solid PG will give Dwight the ball where he is. But in saying Top-4, that means I have them right at four behind Oklahoma City, San Antonio and the Clippers.
Time will tell as free agency continues and rosters get finalized by training camp. But Houston has the best reason to be excited since they traded for Tracy McGrady.
And now we have the media. There was great reporting in this, including USA Today's Sam Amick who broke the news. Unfortunately, most of the media storm reminded me why the 24-7 cycle/entertainment has created more problems. One of which being manufacturing events instead of letting them be.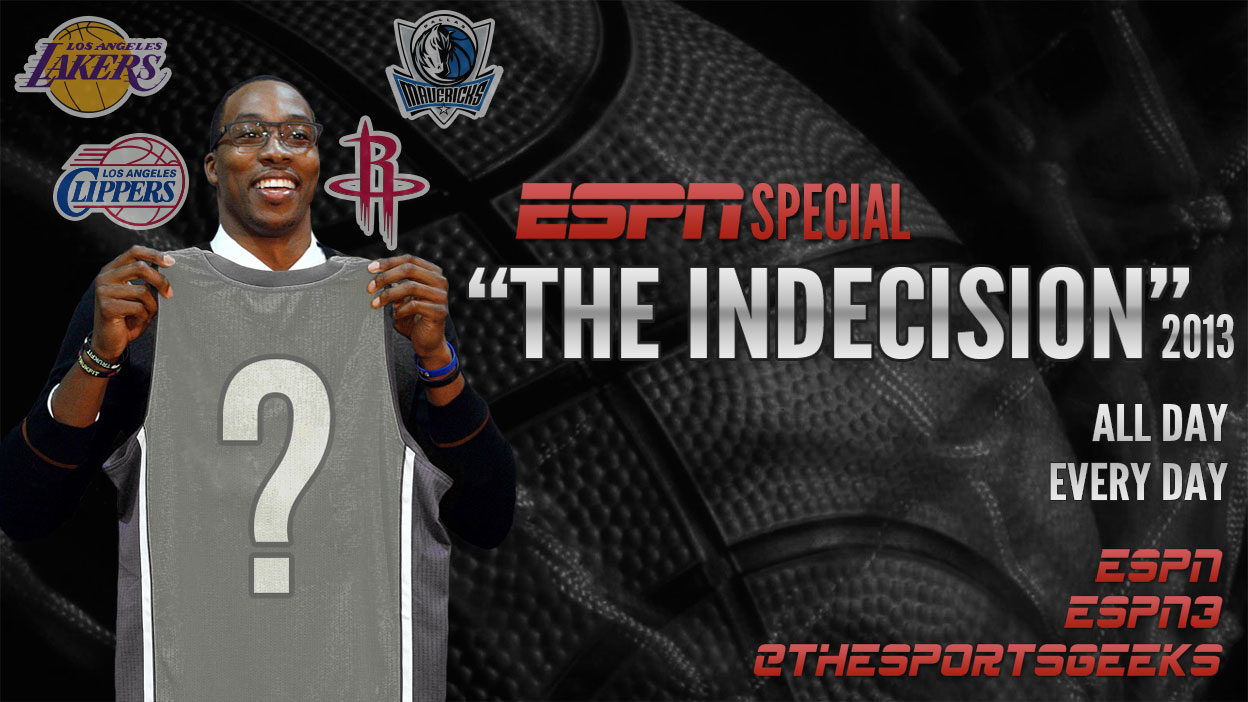 Why is Dwight being blamed for a normal process instead of the media making this a huge deal.
Dwight's decision was nothing out of the ordinary. He made his plans, stuck to his word and kept it moving. If anything it was far better than how he handled things in Orlando and he deserves credit for that.
But let the media tell it, it became the Dwightmare. Who made it the nightmare? Who made it an overblown spectacle instead of just update people on what happened as it unfolded? Surely not Dwight, who did what any free agent would do in weighing options.
I guess it's just the nature of the beast. Between cable news, websites and bloggers, it appears like it's more drama when really it's not. Every little detail has been magnified when really, there should be more restraint on what become newsworthy. All a part of the TMZ-ification of sports that I find disturbing.
Nothing amplified this worse than the "news" Kobe Bryant unfollowed Dwight on Twitter. Why people care to snoop and see who follows and unfollows who on social media is childish. I've been on Twitter for 4 years and I could care less who follows/unfollows who. We're grown up and I thought we left that attitude behind in high school.
Yet as I learned in college, the pettiness doesn't leave high school, it just reforms in different ways in adults. It's sad. Truth is, we the media made this story a bigger deal and in doing so, it became the so-called "Dwightmare" when really it wasn't.
Meanwhile, fans think they can relax knowing a decision was made. Not so fast. I got a few words to say for you all.
Forcing Howard to make a decision so you could be satisfied is exactly why I find some fans unreasonable. It's the same attitude I had when people were clowning Derrick Rose for daring to take his team after a serious ACL injury. The audacity of fans to demand more he make a quick decision is amusing considering it's not your money or career.
I didn't care for him to decide his future quickly. As a man, I wanted him to decide what was right in a prudent fashion. No pressure. No bull. This firestorm wasn't his fault or a sign of his weakness. He didn't owe the Lakers anything so it's so long, good luck and let's focus on what our team needs to do. And now, this is where I get super negative.
2013-14 is shaping up to be a lost year. No Kobe Bryant til perhaps November or December. Pau Gasol isn't going to be amnestied and depending on what you hear, Metta World Peace might be.. Steve Nash will be healthier but older. And of course, there's Mike Antoni at the helm. Mr. Allergic to Defense/Adjustments.
The Lakers drafted a forward in Ryan Kelly when they needed to find a guard. Losing Earl Clark means this team is getting older, not younger. It's no longer attractive to be a Laker right now and that's a sad sign for this franchise.
Besides OKC/HOU/San Antonio/Clippers, Golden State and Portland got better. Memphis, Denver and Dallas will still be formidable. So needless to say, things haven't looked this bleak in a decade for Lakers fans. And did I mention the Lakers haven't addressed their perimeter defense issues or find guys who can create their own shots.
We can't count on Kobe to continue being the hybrid combo-guard he was the last half of the season because who knows what shape he'll be in. Barring a miracle, I'm fully expecting this team to not make the playoffs for only the second time since I started following basketball in 1994-95.
While Dwight Howard changed the fortunes of one team, his presence in L.A. was a reminder that the problems wouldn't have been solved had he returned. The last two years have been tough and the third is far from the charm. It may be the worst yet and I accept it.
For other takes on Dwight, check out my friends Tamara and Paris who have done excellent jobs analyzing in their own way.