I don't care much about the moral handwringing over Johnny Manziel, the current prince of Texas enjoying his football fame. The same way I didn't care about what my friends did when I was in college as long as they were having fun, living it up and not hurting anybody.
Manziel's 20 years old. I'm still not that far removed from college to know how 20 year old kids act. Heisman or not, he's still growing up in front of us and you can't place adult expectations on a college kid. Those who say the Heisman means you flip a switch and carry yourself with grace and professionalism obviously put too much faith in a statue.
Whatever happened at the Manning Academy was unfortunate. Hat tip to the folks at
RumorsAndRants getting more info on this story
and to Manziel's credit, he owned up to his mistakes. Part of growing up means you screw up, let people down and learn how to handle it/do better later.
But for me, I don't have a problem with Manziel being himself long as it doesn't involve letting others down when it counts (and I don't mean on the field). Why should he be held to a higher standard? Because he's a better football player than most? Just because you're a star doesn't mean you should be Mr. Perfect or Mr. "Wholesome All-American" and clinging to that myth says more about you than him.
Manziel's done a great job shaking people's expectations. Media folks were too busy glamorizing and building him to be more than what he was when he wasn't speaking to the press. Now that he's unleashed, they're struggling to deal with a bold/brash kid who's enjoying his celebrity and rubbing it in folks' faces.
I admit that I questioned him getting courtside seats considering that other players would be scrutinized for the same thing. Yet as Bomani Jones pointed out in his great article,
Manziel's got money in his family
. He doesn't come off like somebody who doesn't have it and perhaps that's made him more polarizing. He won't be low key cause that's not in his DNA. And that upsets folks who only love their athletes humble and business-like.
It doesn't hurt that Texas A&M is a good team and has a good chance to repeat their success in the SEC. As long Manziel isn't being a criminal or hurting other people, I'm content to let him be him. I'm more fascinated by his pro prospects as a small quarterback (6-1, 200 lbs.) who has a knack for making plays and, so far, winning.
And for folks who say if he doesn't repeat his 2012 season, it's because of his celebrity. Newsflash, Manziel had one of the best freshmen seasons of all time. You can't reasonably expect him to post the same numbers the same way I don't expect Alabama to three-peat. It ignores other factors such as...
- The SEC catching up to him after coordinators studied his tape for months.
- The SEC getting better than last year, which it will because the SEC had a down year.
- The strength of A&M's offensive line after losing All-American tackle Luke Joeckel, who protected Manziel's blind side. I saw firsthand how that hurt Matt Barkley last year among other things.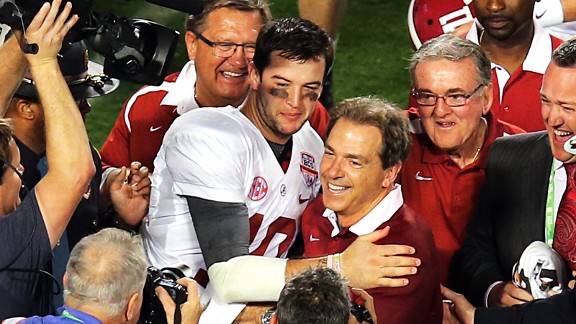 If AJ McCarron doesn't win his 3rd straight national title for the Crimson Tide, should I blame the distractions of his girlfriend, Katherine Webb? Nick Saban offers him that protection because Saban's system is well established on focusing on team first. Even without that, it'd be silly to blame off the field distractions for McCarron so why do it for Manziel?
I believe Aggies head coach Kevin Sumlin will keep his star quarterback in check. Sumlin has proved himself as a no-nonsense winner and while granting Manziel some freedom, he also knows how to reign him in when it's time for work.
Speaking of which, who's to say Manziel isn't doing that either? I never bought the idea that athletes are all business 24-7 and from being in college, I know that firsthand. Athletes take a great amount of time to prepare and do their work/preparation. Yet some also partied as hard as others. I believe that as great an athlete as Manziel is, he's also putting in work that we don't see.
For me, I'm just curious to see how Manziel and A&M will play next year since I haven't seen the Aggies this good since Dat Nguyen was roaming around in the late 1990's. As for how he carries himself? I dig his personality/attitude and what he does off the field merely intrigues me more than bothers me. He'll learn how to balance it out as most people do when they get older.
Ultimately, Johnny Football is good for the game, on and off the field. Consider the criminal behavior that others have shown, give me Manziel instead of somebody who's actually a bigger problem. He'll mature with time and he'll learn how to tone down some things but for now, let's enjoy it.