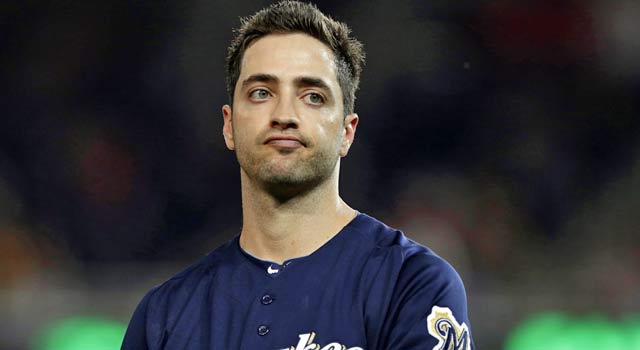 For me, the biggest deal with Ryan Braun being
suspended for the rest of the season
is how quickly he owned up to it compared to what happened last year. He found a loophole in the process and exploited it well. Now he couldn't outrun lightning striking near him twice.
I'm not shocked when somebody cheats anymore. I also don't assume everyone is cheating either. I'm at that weird in-between where I just watch the game, trust my eyes more than my ears and let the process play out. I'm not about to call somebody a total fraud without considering the totality of their career.
Yet as a Dodgers fan, I'm not about to say Braun's MVP should be given to Matt Kemp. Why? Because I already argued a
few
times
in 2011 why Kemp should've won and that argument hasn't changed in two years. In a
close race
, Braun won because his team went to the postseason.
MLB wisely doesn't strip folks of winning awards (for the record - I'm fine with it in the Olympics to a point). Doing that would insult what our eyes saw and pretend it didn't exist. PED-enhanced numbers existed on MLB's watch and it wasn't until the game became a cartoon that they stepped in to clean it up.
That all said, I've believed for a while that Barry Bonds got cheated out of an MVP (1991) as did Pedro Martinez (1999) and Albert Belle (1995). I'd rather argue that Kemp deserved it in 2011 and should've won it on his own merit regardless of what Braun did.
(Photo by Jon Soo Hoo/Dodgers)
Kemp in 2011: .324 BA/39 HR/126 RBI's/40 stolen bases/109 runs/.399 OBP/.986 OPS
Braun in 2011: .332 BA/33 HR/111 RBI's/33 stolen bases/115 runs/.397 OBP/.994 OPS
It's worth noting Kemp led the National League in home runs and RBI's, was third in batting average and led the NL (or was near the lead) in several categories. But alas, the writers were distracted back then by the Dodgers' record, a record that didn't hit Clayton Kershaw winning the Cy Young.
I can forgive the writers voting for someone in a landslide and then realizing the person was cheating in hindsight. But I cannot accept award voters using PEDs as an excuse to make up for their own mistake in a close election. The idea that the Most Valuable Player should always come from a playoff contender is bogus and while most of the time it's acceptable, sometimes, it's not.
Braun's got a lot of work to do while he rides the pine and tries to restore his reputation. He'll be the first domino to fall from this scandal as we wait for perhaps Alex Rodriguez and others to get some punishment. But as some argue why his MVP should be stripped, you'd better look back at 2011 at those who argued that Kemp should've won it in the first place.