It's funny how rivalry week shakes out. 2007, I was at the Coliseum where UCLA got spanked by USC and Karl Dorrell's press conference sounded like a funeral of a man who would be fired soon. This year, USC changes coaches after being spanked and Jim Mora re-ups with UCLA for a longer extension.
One thing is clear. As my friend Rahshaun Haylock of Fox Sports showed in that picture above, UCLA runs the city now. It's something I thought I'd never see after 1998 and this week marks the 15th anniversary of the game that changed UCLA's fortune. The collapse against Miami.
You might remember that year as the Bruins were the first team to debut at No. 1 in the BCS. The Bruins were in the middle of a 20-game winning streak. Cade McNown was poised to be invited to the Heisman Trophy ceremony and two freshman named Deshaun Foster and Freddie Mitchell (before he got hurt that year) had me excited. I had the season poster as one of my book covers.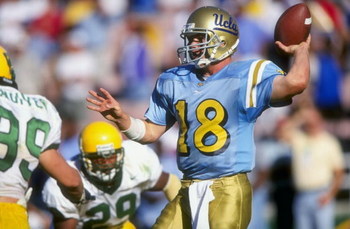 Did I mention the Bruins had an eight-game winning streak against USC? Foster went wild that game and I remember ABC calling it "Foster's Freeze". Everything was clicking and the Bruins seemed ready for their first national title game in my lifetime.
Except for a small fact. Hurricane George. Thanks to that punk, the Bruins had one more game to play that was rescheduled. Miami. I wasn't worried. I didn't know the rich history of The U at the time but I knew Florida and Florida State were far better teams.
Sadly I couldn't watch the game so I listened to it on radio. McNown threw the rock all over Florida to give the Bruins a 38-21 lead but some running back named Edgerrin James (above) was carving the Bruins defense up. The Canes came all the way back and unfortunately, James was the last to score.
A 1-yard run by James gave the Canes the lead with under a minute left and McNown's last ditch pass went out of bounds. UCLA lost in the Rose Bowl to Wisconsin and Heisman winner Ron Dayne, who had his way similar to James and their fortunes would soon fall south.*
UCLA tried to find a quarterback like McNown and couldn't until Drew Olson in 2005. Despite having All-Americans like Mitchell, Maurice Jones-Drew and Marcedes Lewis and a few pros, the Bruins headed into a downward spiral. But the soundtrack wasn't Trent Reznor, it was the USC theme song.
Two years after the Miami game, the Trojans hired Pete Carroll. I remembered him as an NFL washout so I wasn't worried but we all know what happened next. Only the rise of the 21st century's first college dynasty.
I knew trouble was coming in 2002 when I was out in college with my then-gf and some friends. In between leaving my dorm to lunch, UCLA was down 14-0. The blowout was coming and I knew the fortunes were doomed. It's not surprised that when I briefly abandoned my Bruins love (blame my bitterness on not getting in to the school), things went south as USC became elite again.
You know it's bad when 2005 was a great year and the Bruins were Top 10 in the country with two All-Americans and gave up 66 points to No. 1 USC. The best year in seven years and they didn't even belong on the field with the Trojans.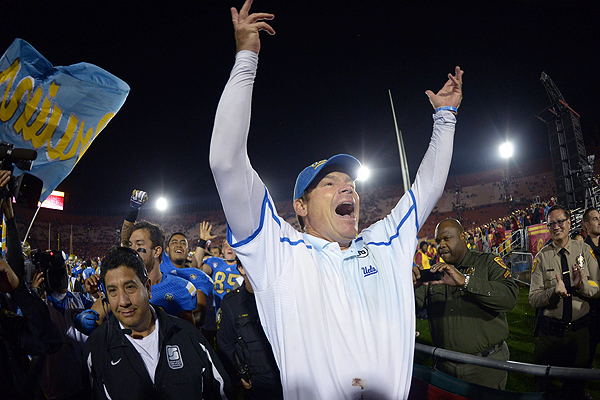 That's probably why I'm appreciating the last two years here under Mora. For the first time, I finally have hope and optimism surrounding this team. It seems like they're building something that'll last for a while and will attract some of Cali's best kids (and others here). It's a revival of my youth and I'm happy to see it.
Saturday's win reminded me of what I've witnessed since 1998 and made me happy to have hope that Mora will make UCLA be seen as a football program worth respecting.
*That 1998 game also changed Miami's fortunes. Edgerrin James blew up after the UCLA game and the Hurricanes' bowl game and became a Top-5 NFL pick. Miami began rebuilding their once-proud dynasty and by 2000, they were once again a Top-5 team. So good, in fact, that I almost considered attending The U when I got some mail from them because they were so good.
Even more irony is that the 2001 team, the greatest team I've seen, won the national title in UCLA's home stadium. A reminder that their revival was made possible by the Bruins losing in the Florida heat.